This post is sourced from Larry Chase's email newsletter 12/13/2010, discussing tools that we can use to help our business. I checked out a few of them and I wanted to share with you some that will help with your marketing efforts over the holiday season.
I know you will have lots of time between decking the halls, baking up a storm, and getting ready for good ole St. Nick to cuddle up on your couch and do some social network marketing research on all your favourite topics. The first one 48ers is a social networking research search tool that will collect all the real time results of conversations containing that filtered search. If you want to know what people are talking about regarding your subject area, just type in the query, or add #subject, or @subject. It will quickly show you relevant results, with visible icons of source and how recent it was posted.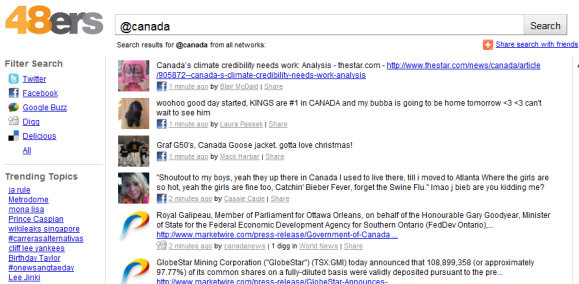 Another real-time search tool called Topsy is a more comprehensive search tool for Twitter searches.
Topsy gives you both a basic Google-style, one-line search field or an advanced option that allows you to specify or exclude terms or impose time limits.
Some suggested uses:
Research trending topics related to your PPC keywords.
Find out what people are saying about your company products or service.
Track down your most influential Twitterers.
Real time search results help you to see what people are talking about with respect to your subject area. You can review trending topics and many links lead you to ample information. Remember to participate – not only to read these posts, but to become engaged with the conversation. Share your expertise and input. This will position you as an influencer or leader in the field as well provide you with opportunities to learn. Don't be shy, nor be outlandishly in your face attitude; remember it is just like social networking in person, mind your p's and q's.
If you would like to learn more of Larry's wise advice on marketing practices, join him on twitter, http://twitter.com/LarryChaseWDFM